Tip Of The Week (TOFTW): Why Use Instagram Instead of Facebook Camera?
There was so much news a few weeks back about Facebook's purchase of Instagram for a billion dollars.  I kept asking myself, why is Instagram so popular and important when I can already upload as many photos as I want, from my iPhone or Android smartphone, to Facebook and share with over 900 million other people, or any subset I choose.
It turns out, there actually is a reason – for some people.  It is not for everyone.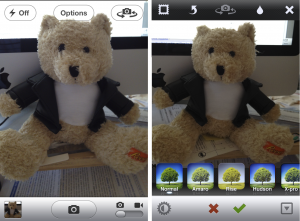 Here is a very quick summary of the differences.  You choose which one is better for you.
1) Facebook camera is only for sharing pictures on Facebook.  Instagram is a social network of its own.  You can share photos with other Instagram members in your group, you can create your own follow list and people can decide whether or not to follow you.  Instagram also gives you the option to easily upload your pictures to many different sites in addition to just Instagram and Facebook. You can upload your pictures to Twitter, Foursquare, Flickr, and more.
2) Facebook Camera is geared more for a general audience.  Instagram is more for the artsy audience. Facebook gives you more cropping and rotation capability, but Instagram gives you much more filtering capabilities and artistic picture frames.
The ultimate choice of which to use is up to you. If you give each a try, you will notice other smaller differences.  I expect that over time, they will both start to look more like each other.  Either way, have fun keep sharing your photos with your.
Cheers,
Richard
The iTech Tutor
To get occasion tips and notifications of upcoming classes, sign up here:

UPCOMING CLASSES

Introduction to iPhone & iPad
Next 2 classes are Oct 25, 2017, and Jan 31, 2018 @ The Santa Rosa Finley Community Center
Registration not yet open for Oct & Jan - Please check back soon

+++++++++++++++++++++++++
Introduction to Android
Next 2 classes are Oct 26, 2017, and Feb 1, 2018 @ The Santa Rosa Finley Community Center
Registration not yet open for Oct & Jan - Please check back soon

++++++++++++++++++++++++++

Using Your iPhone & iPad for Beginners (thru SRJC Community Ed.)
Class starts October 4, 2017 @ Santa Rosa Junior College (Learn More)

----------------------------------------------------------
Using Your Android for Beginners (thru SRJC Community Ed.)
Class starts November 1, 2017 @ Santa Rosa Junior College (Learn More)

(Additional classes coming soon)

TESTIMONIALS

&nbsp

&nbsp