I often get people telling me they got a message from Apple/iCloud that they are running out of iCloud memory and need to buy more storage, "What should they do?" (See a copy of a sample letter below.)
You can buy more storage, as they suggest, but backing up to your computer is much better.
a) Backing up to your computer, via iTunes, give a much fuller backup.
b) make sure you also back up your computer! A full back up is best to make sure your get your iPhone/ipad files.
c) the iCloud back up stores info from all devices that use the same Apple/iCloud ID in the same account.  You could separate your devices onto different accounts, but that will cause more headaches than its worth.
d) Go to Settings —> General —> Usage —> (iCloud) Manage Storage to see what is usage the memory and see if you can turn it off.  Some you can, some you can't.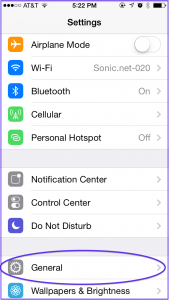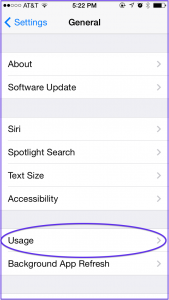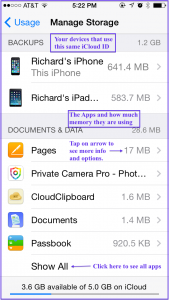 (click thumbnail to enlarge a sample letter)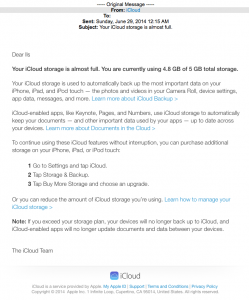 To get occasion tips and notifications of upcoming classes, sign up here:

UPCOMING CLASSES

Introduction to iPhone & iPad
Next 2 classes are Oct 25, 2017, and Jan 31, 2018 @ The Santa Rosa Finley Community Center
Registration not yet open for Oct & Jan - Please check back soon

+++++++++++++++++++++++++
Introduction to Android
Next 2 classes are Oct 26, 2017, and Feb 1, 2018 @ The Santa Rosa Finley Community Center
Registration not yet open for Oct & Jan - Please check back soon

++++++++++++++++++++++++++

Using Your iPhone & iPad for Beginners (thru SRJC Community Ed.)
Class starts October 4, 2017 @ Santa Rosa Junior College (Learn More)

----------------------------------------------------------
Using Your Android for Beginners (thru SRJC Community Ed.)
Class starts November 1, 2017 @ Santa Rosa Junior College (Learn More)

(Additional classes coming soon)

TESTIMONIALS

&nbsp

&nbsp