Well, it is finally here!
The long awaited iPhone 5!  And my first impression is – wait for it please (drum roll) … – oh well.
It looks like a nice phone and a nice upgrade, but we've come to expect so much from Apple.  We want to see something totally new, that we never expected.  The biggest change between the iPhone 4S and the iPhone 5 is the iPhone 5 is 9 mm (0.37 inches) taller, 1.7 mm (0.07 inches)  thinner, and 28 grams (0.95 ounces) lighter. The overall effect is to increase the screen size to 4 inches from 3.5 so you have more screen space, while keeping the feel of holding it in one hand the same.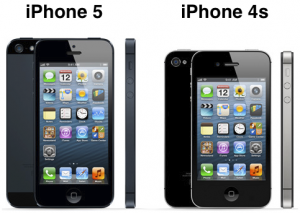 Most of the other changes are just improvements on the existing features. Here are a few:
Improved Camera
Faster, more powerful processor
Faster Wifi
4G LTE support
Apples own "Maps" app*
Higher quality ear buds
Support for Facetime over the cellular network*
Improved, more powerful Siri*
Smaller, more versatile dock connector
* Some features, are actually part of the new iOS6 and therefore available, with upgrade, on previous models of the iPhone.
What are your thoughts on the iPhone 5?  Are you going to upgrade?
Richard
The iTechTutor
To get occasion tips and notifications of upcoming classes, sign up here:

UPCOMING CLASSES

Introduction to iPhone & iPad
Next 2 classes are Oct 25, 2017, and Jan 31, 2018 @ The Santa Rosa Finley Community Center
Registration not yet open for Oct & Jan - Please check back soon

+++++++++++++++++++++++++
Introduction to Android
Next 2 classes are Oct 26, 2017, and Feb 1, 2018 @ The Santa Rosa Finley Community Center
Registration not yet open for Oct & Jan - Please check back soon

++++++++++++++++++++++++++

Using Your iPhone & iPad for Beginners (thru SRJC Community Ed.)
Class starts October 4, 2017 @ Santa Rosa Junior College (Learn More)

----------------------------------------------------------
Using Your Android for Beginners (thru SRJC Community Ed.)
Class starts November 1, 2017 @ Santa Rosa Junior College (Learn More)

(Additional classes coming soon)

TESTIMONIALS

&nbsp

&nbsp